Henning Vorster's father, Willem, founded the Paddadors SA Mutton Merino stud in 1951. A few years later, his mother established the Bella Vos Stud.
Over the years, these studs have been farmed as one, and today, Henning manages both, with a total of 250 ewes.
Willem groomed Henning from an early age to take over the family Mutton Merinos, and Henning recalls how he was able to attend livestock sales during school hours.
"From Grade 3 my father informed the school principal that I would be going to Mutton Merino sales,'' he recalls. "When the principal protested, my dad asked him if he thought he was the only one educating his son.''
In 1979, Henning systematically began taking over the family Mutton Merinos, which is run on the 1 000ha farm, Bloubosfontein, near Middleburg in the Eastern Cape.
By 1982, he had completely taken over the operation, and in 1992, he accepted a local teaching post to augment his income from the farm. Three years ago, he retired to focus on his flock.
Over the years, Henning has learnt a lot about Mutton Merinos, including that showing them can be counterproductive, and that line breeding can reap exceptional rewards.
Henning says that breeding extremes into sheep is never worthwhile.
"Nature always drives you back to the average,'' he says. "You can do what you want.''
Showing
Henning believes that the showing of Mutton Merinos is counterproductive, as it has created an environment in which large and often overweight sheep are accepted as the best.
He found it difficult to accept that to remain competitive, he would have to overfeed his medium-framed animals, which had adapted to farming conditions in the Karoo.
"I don't believe in showing,'' he says. "Every region has a type of sheep that is adapted to that particular area. A sheep in the Karoo is completely different to a sheep in Bothaville that lives on maize.''
Henning adds that it is well known that overweight rams are often subfertile, if not infertile, and are often too lazy to mate.
Moreover, Henning has over the years noticed how the more medium-framed ewes are far more likely to produce multiple lambs.
The SA Mutton Merino Breeders' Society has now taken the initiative in the stud industry by ensuring that all SA Mutton Merino rams sold at sales must have fertility certificates, while ewes are simply not allowed in the show ring anymore.
Furthermore, farmers are encouraged to upgrade their commercial flocks to stud status by using registered Mutton Merino rams.
Henning says he is pleased with these developments, and explains that stud farmers have a responsibility to supply commercial farmers with fertile and efficient sheep.
"The stud [farmer] has to provide quality sheep to the commercial farmer,'' he says. "This is the most important aspect of the entire industry, because they [commercial farmers] want to make money from productive and fertile animals.''
Line breeding
Henning says that there are no better sheep for his farm than his own. Therefore, he, like his father, has implemented strict line breeding techniques, and has been extremely cautious of purchasing rams that could introduce faults into his flock.
As such, Henning has not bought-in any rams for the past 15 years. If new genetics are needed, they are introduced by bought-in ewes, thereby making it easier to control the genetic impact on the flock.
"You must always keep control of half the genetic line. Line breeding is about replacing a good ram with a better son,'' he says.
"It is a better option [to breed one's own rams] with fewer risks because you know your genes.''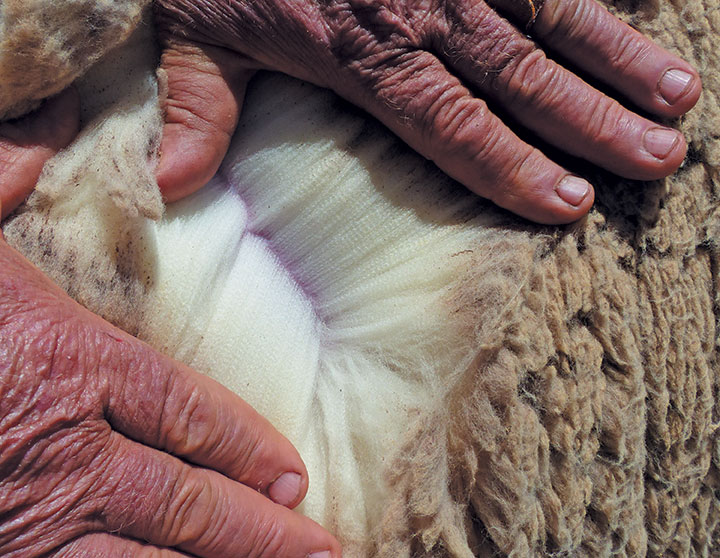 Each year, the best two to three rams bred on Bloubosfontein are kept for breeding before being sold. Henning also harvests significant amounts of semen straws from the rams he markets for use in a laparoscopic insemination programme.
It is thus ironic then that the last ram he bought-in produced his most influential, self-bred ram, Print (7050 WJV). Born in 2007, Print's genetics have been ploughed back into the stud as much as possible.
For this, Henning has selected the best ewes to mate with Print over a 10-year period. This strategy has paid off handsomely, with Print producing several award-winning rams, including Meerkat (5085 ISA), the record-priced ram at the 2017 National Sale in Bloemfontein, as well as five other rams that achieved the top price at other national sales since 2012.
Henning sells about 22 rams a year. He ascribes the solid demand for his Mutton Merino genetics to the fertility and adaptability of his flock. He says the rugged farming conditions in the Karoo allows the progeny of his sheep to flourish in areas where more feed is available.
Feeding and lambing
Henning has planted pastures around the outbuildings on the farm, where two boreholes provide 20 000ℓ and 22 000ℓ of water an hour respectively.
Submersible solar pumps feed a Permaset irrigation system on 4ha of established triticale and oats, while another 4ha are being prepared for cultivation. These pastures help support the Mutton Merino flock, that share Bloubosfontein with 120 Meatmaster ewes and 45 Brahman cows.
Seventy percent of all Henning's Mutton Merino ewes produce multiples, which has boosted the weaning rate to 170% at 90 days, with an average weaning weight of 45kg, and some ram lambs weighing as much as 60kg. Every year, about 30 replacement ewes are put to rams at 18 months.
Fertility and weight gain in the flock is optimised by a strict and balanced feeding regimen. Ewes receive 50g of maize a day, with lucerne bales provided ad lib on the veld for the first five weeks before mating and laparoscopic insemination.
In the final week before mating, the maize ration is increased to 100g, which ewes will continue to receive until they lamb, depending on the quality of the veld.
Ewes lamb in March/April in small camps around a shed fitted with lambing pens. Once born, lambs and ewes are transferred to the lambing pens, where ewes receive the maize and lucerne ration.
After about three days, the lambs and ewes are transferred back to the small camps around the shed, where the ewes continue to feed on the maize and lucerne.
After two weeks, lambs and ewes are returned to the veld, and lambs are fed a creep feed from 14 days to 150 days.
Thereafter, lambs receive lucerne bales and a Fostec P6 lick until the age of 10 months. Selected ram lambs also receive 150g of pellets/ day until they are marketed, and young ewes are run on the veld and supplied with a Fostec P6 lick, as are all other smallstock on the veld.