John Schenk and Fiona Lees are focused on the timber industry near Hogsback, but started a part-time agricultural venture near Elliot in 2004. Despite committing to Nguni cattle, their willingness to experiment on their farm has ensured a broader scope of interest. Mike Burgess reports.
It has been a privilege to have had the time to experiment and try new things to see what works on our farm,'' says John Schenk.
"Without an alternative income, we probably wouldn't have been able to do it.''
This willingness to experiment was evident right from the beginning. John and his partner, Fiona Lees, live in Hogsback in the Eastern Cape.
In 2003, huge fires ravaged portions of the Mondi timber plantations near Elliot, 300km away.
It turned out that some trees could nevertheless be salvaged and processed, and John and Fiona saw a business opportunity.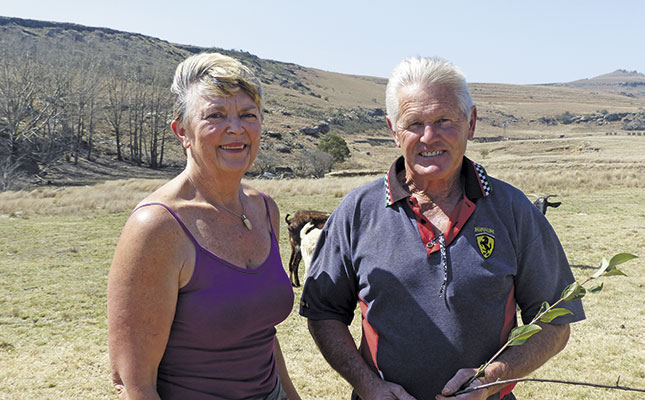 They travelled to the area the following year in search of a property to erect a sawmill, and ended up buying the 500ha farm Ulva, adjacent to the affected plantations.
The then ungrazed farm was a serious fire hazard, so they decided to introduce a herd of beef cattle to graze the grass.
This was effectively the start of their farming operation, which has not only grown but diversified over the past 15 years.
They now sell Nguni cattle from their herd to farmers in the former Transkei, and also sell indigenous veld goats to the informal market and Merinos to feedlots.
Nguni: the survivor
John and Fiona's livestock initiative started with advice from the late Doug King of the Faculty of Agriculture at the University of Fort Hare in the former Ciskei.
"I told him I wasn't a farmer but was looking to farm cattle,'' John recalls. "He said to me that I should go for the Nguni, because they're hassle-free and look after themselves.''
In 2004, John and Fiona bought 17 Nguni females from the dispersal sale of Vic Biggs, near Kei Road in the Eastern Cape.
This was followed by the purchase of a bull from the Eastern Cape Nguni Club Sale in Queenstown.
With this solid genetic base, John and Fiona began their Nguni operation on Ulva.
Over the years more genetics have been introduced, including animals from Jacques Steenkamp (Humansdorp) and Glen Knott (Fort Beaufort).
Although their herd is no longer registered, Fiona says that the vast majority of their Ngunis would qualify as stud animals as only registered Nguni bulls are purchased.
The Inkomo Zodidi Nguni herd has proved its ability to remain productive despite the severe droughts over the past
few years.
Bulls remain with the herd all year round, and the females achieve a calving rate of 80% on sourveld, while some heifers calve for the first time at 24 months.
Some cows born in 2005/2006 are still producing a calf a year.
Individual cattle are spot-sprayed only when tick loads become heavy; the last time this was necessary was in December 2016.
The herd has ad lib access to self-mixed lick and rock salt blocks all year round.
Calves are dewormed at weaning, the only time that the cattle are dosed (apart from individual treatment of the occasional sick animal).
John and Fiona sell their Nguni heifers at 12 months to farmers in the former Transkei where they develop into hardy, disease-resistant and fertile cows preferred for crossbreeding in tough communal conditions.
"Demand has been so high that we haven't needed another market," says John.
Customers often tell John that they prefer Nguni heifers due to their ability to survive.
One customer put it more bluntly, saying that heifers from other beef breeds introduced into the Transkei often "lie on their side and die in a week".
Terminal crossbreeding and ox production
According to John and Fiona, the real value of the Nguni breed lies in its dam lines, which are fertile and give few if any calving problems.
Nguni females therefore perform well in terminal crossbreeding programmes that result in increased weaner weights.
Although John and Fiona have no problem marketing heifers as breeding stock, weaner oxen have been a problem to sell, as feedlots pay less for Nguni weaners under 200kg.
Since 2016, John and Fiona have therefore begun experimenting with a terminal crossbreeding programme using Boran and Pinzgauer bulls to boost weaner weights.
Their 70 breeding females have been split into two herds, with half the animals kept pure to breed replacement Nguni heifers, and the other half having Boran and Pinzgauer bulls put to them.
Although these crossbred weaners are heavier – with average weaning weights of 200kg to 210kg – than their Nguni counterparts, John and Fiona have decided to grow all oxen out to three years.
In this regard, the farm's production of 18ha of maize (14ha for silage) has proved invaluable, as oxen receive a ration based on Molatek Beesvet 33+ that includes maize and silage.
"I'm not going to give my oxen to the feedlots for nothing,'' says John. "We'd rather grow them out to three years until they reach between 380kg and 420kg.''
Extra feed
In addition to producing silage, John and Fiona plant 8ha of oats using no-till methods; this feed is used mainly to support their goats and sheep.
In 2015, they also bought a pelletiser from Jones Masjiene in North West, after a visit to Nampo, and currently produce between 6t and 8t of pellets a month.
A number of ingredients go into the mix, including:
poor man's lucerne (14ha), lucerne (from 22ha near Alice that John leases in a joint venture with Temba and Philip Gxotiwe), maize (obtained from their own plantings and a local farmer who pays in kind to cultivate 40ha of maize on Ulva), cotton seed cake, molasses and a mineral mix.
The pellets are used exclusively for small-stock and have proved to be a critical intervention.
"The pelletiser was a saving grace. We wouldn't have got through the drought without it," admits Fiona.
John does not believe in fire as a veld management tool.
Since 2014 he has been experimenting with the mulching of veld by mowing moribund grass in camps after grazing.
Although he has spent a good deal on diesel and broken a few mower blades, the moisture retention in the 40ha veld that has been mulched has resulted in a significant improvement in the quality of grass cover.
"It costs money, but I think it'll eventually pay dividends, because we put all that mulch back into the soil, creating cover that allows for significant moisture retention,'' he says.
"If you burn the veld, and it then receives rain, all the carbon washes away, leaving pods of grass with bare ground between them. The sun then sucks up the moisture.''
In addition, John has used a no-till planter to establish birdsfoot trefoil, Smuts finger grass, and sheep's burnet in mulched veld to boost carrying capacity.
Goats and Merinos
The focus on extracting more feed from Ulva has made it possible to establish a sizeable small-stock and Merino sheep initiative.
Indigenous veld goats, including Mbuzi and Xhosa lob-ear ecotypes, were initially acquired in 2008 to combat the spread of ouhout (Leucosidea sericea).
John and Fiona bought their first goats at the Bloemfontein National Indigenous Veld Goat Sale, but over the years have purchased Xhosa lob-ear rams from John Sparks near Fort Beaufort.
Their 160 ewes are hardy and disease-resistant, being dipped
only when lice become a problem; they are also fertile.
They achieve an average kidding rate of 120% despite the sourveld conditions, with some mature ewes kidding twice a year.
Each goat receives 20g of pellets a day in summer and 50g a day in winter. Most of the pellets, however, are supplied to the farm's 300 Merino ewes.
Mineral and rock salt blocks are put out, and all small-stock receive an annual Multivax P shot, which has drastically reduced losses from pasteurella.
The FAMACHA system is used with great success to determine which animals need dosing for wireworm.
Goats are sold to the informal market in the former Transkei for traditional slaughter and breeding purposes; ewes as young as nine months are sold with ease.
White goats are preferred for traditional ceremonies, a fact that prompted John and Fiona to introduce a Savannah ram to the flock two seasons ago.
Cashmere is also harvested for Africa's first cashmere fabric manufacturer, Ivili Loboya, near Butterworth.
Merino lambs are sold to the formal market when they reach about 30kg.